Smonet Smart Front Door Lock Set
𝐅𝐢𝐧𝐠𝐞𝐫𝐩𝐫𝐢𝐧𝐭 | APP | Alexa | iwatch | IC Fob | Passcode 
Know who's coming and going anytime from anywhere.
Smonet Smart Front Door Lock Set
𝐅𝐢𝐧𝐠𝐞𝐫𝐩𝐫𝐢𝐧𝐭 | APP | Alexa | iwatch | IC Fob 
Know who's coming and going anytime from anywhere.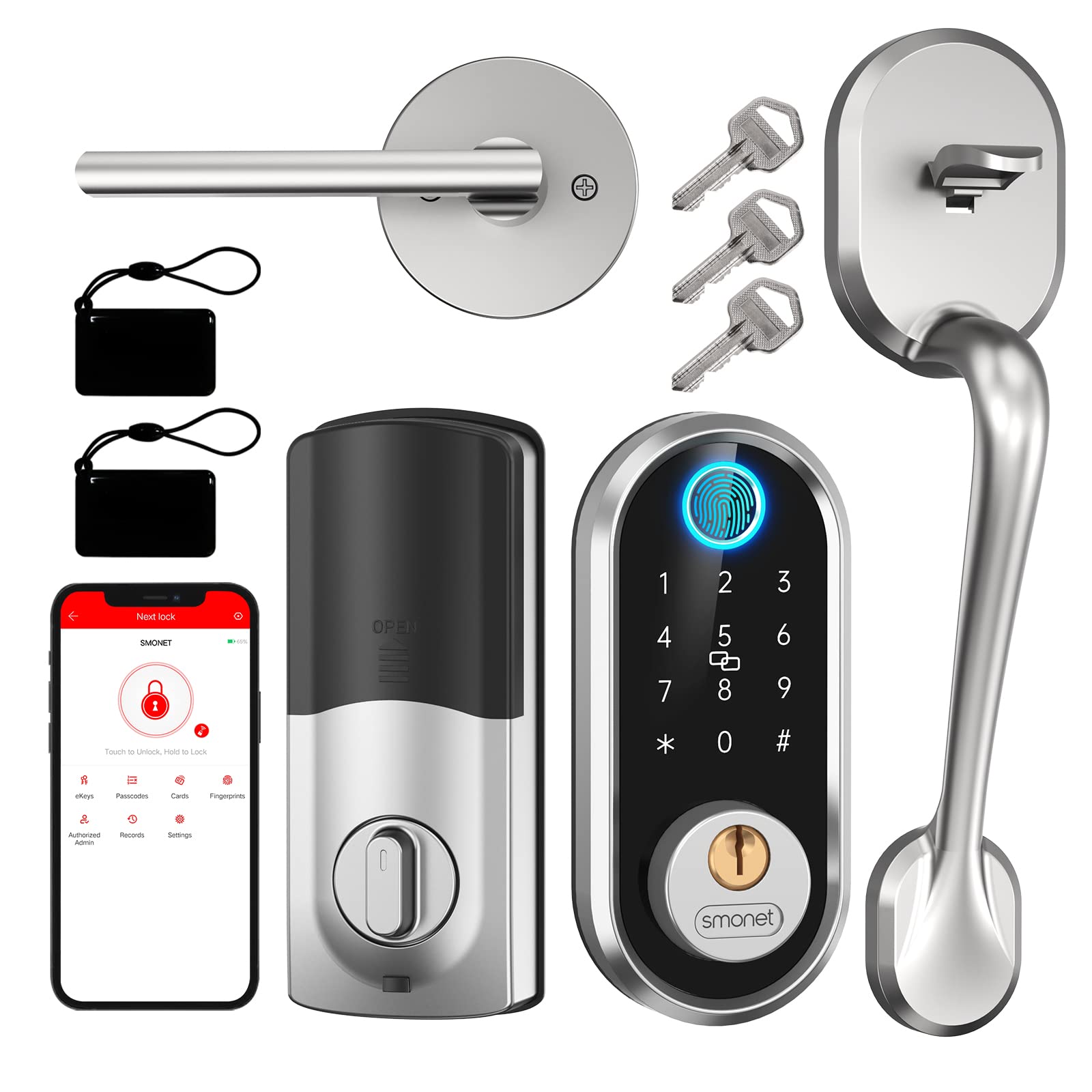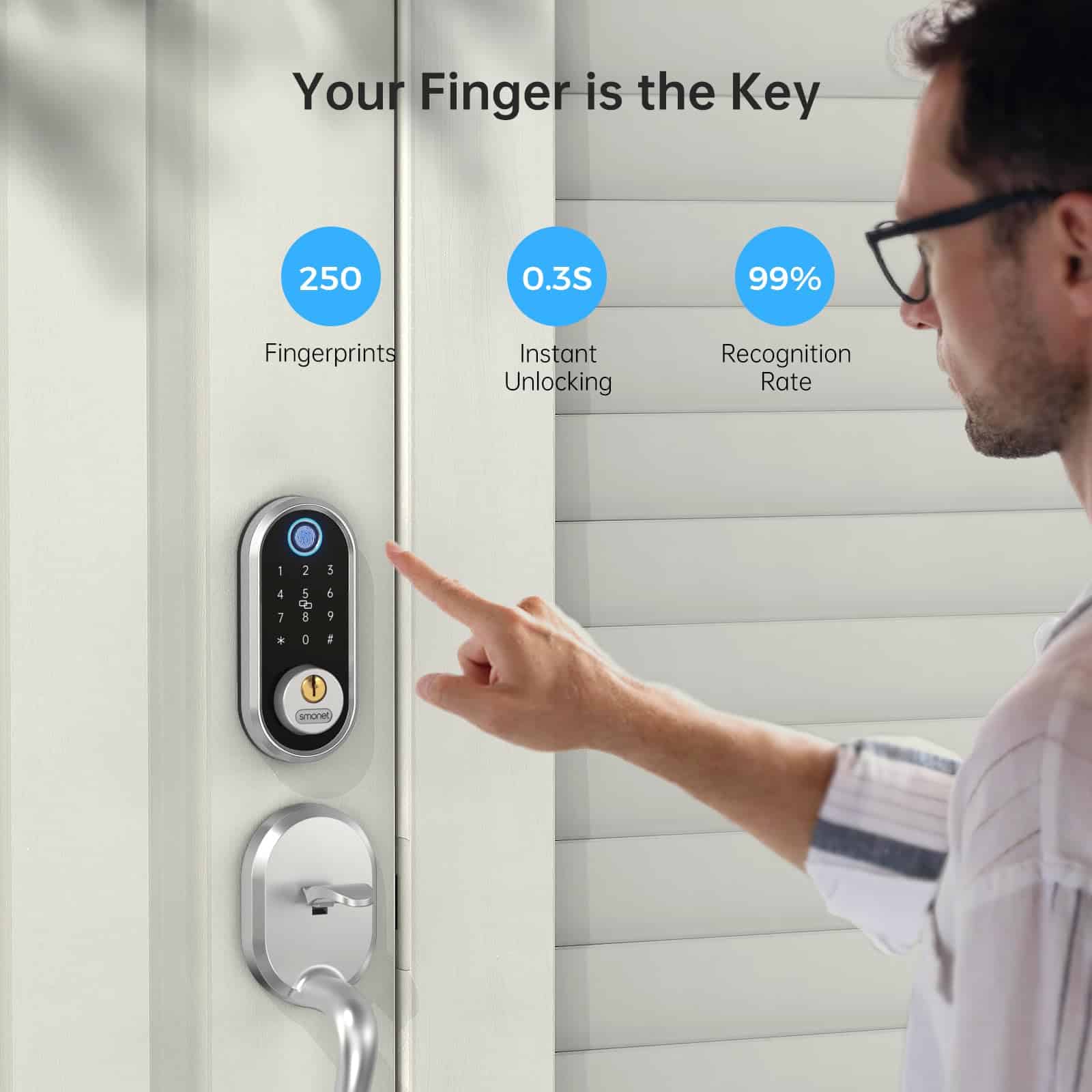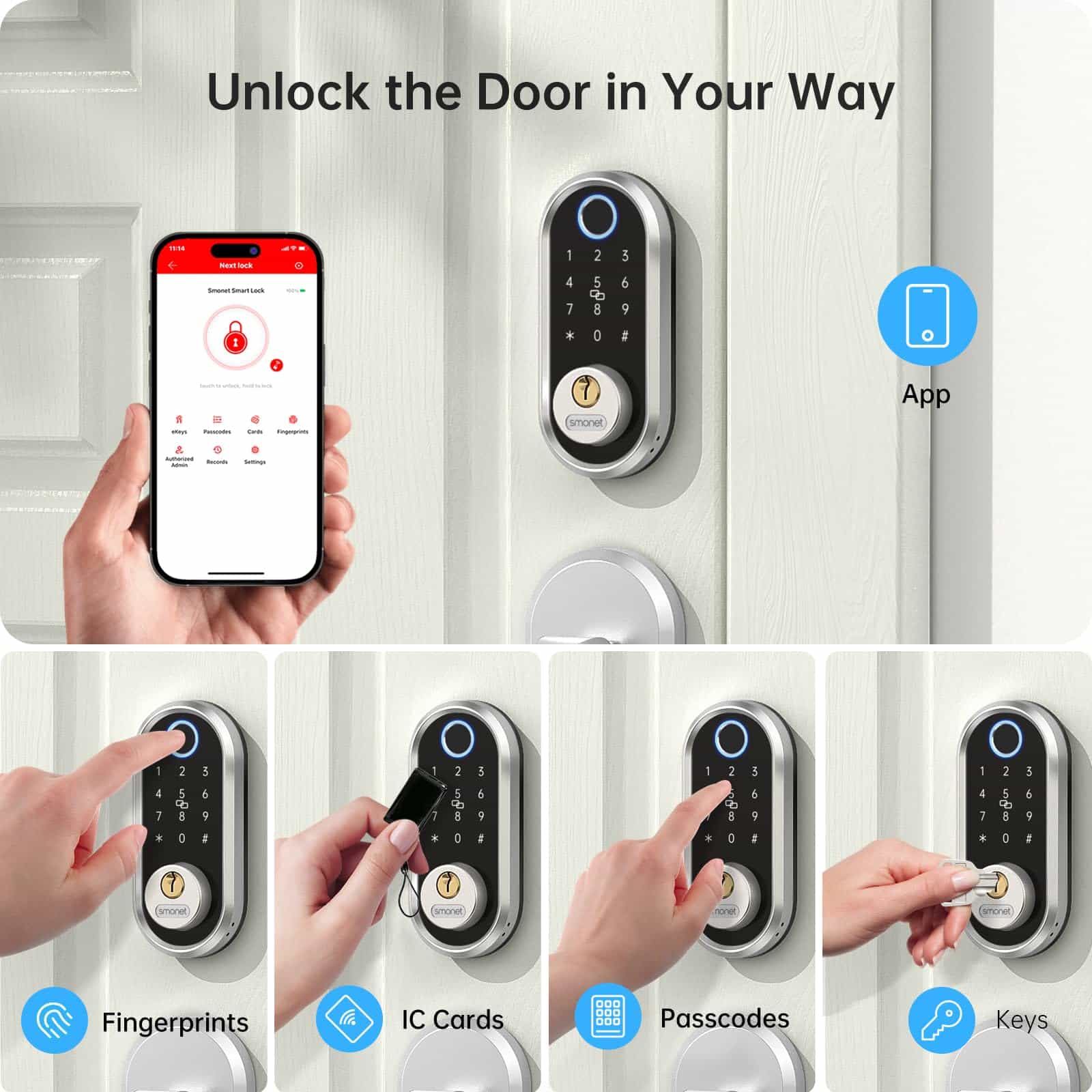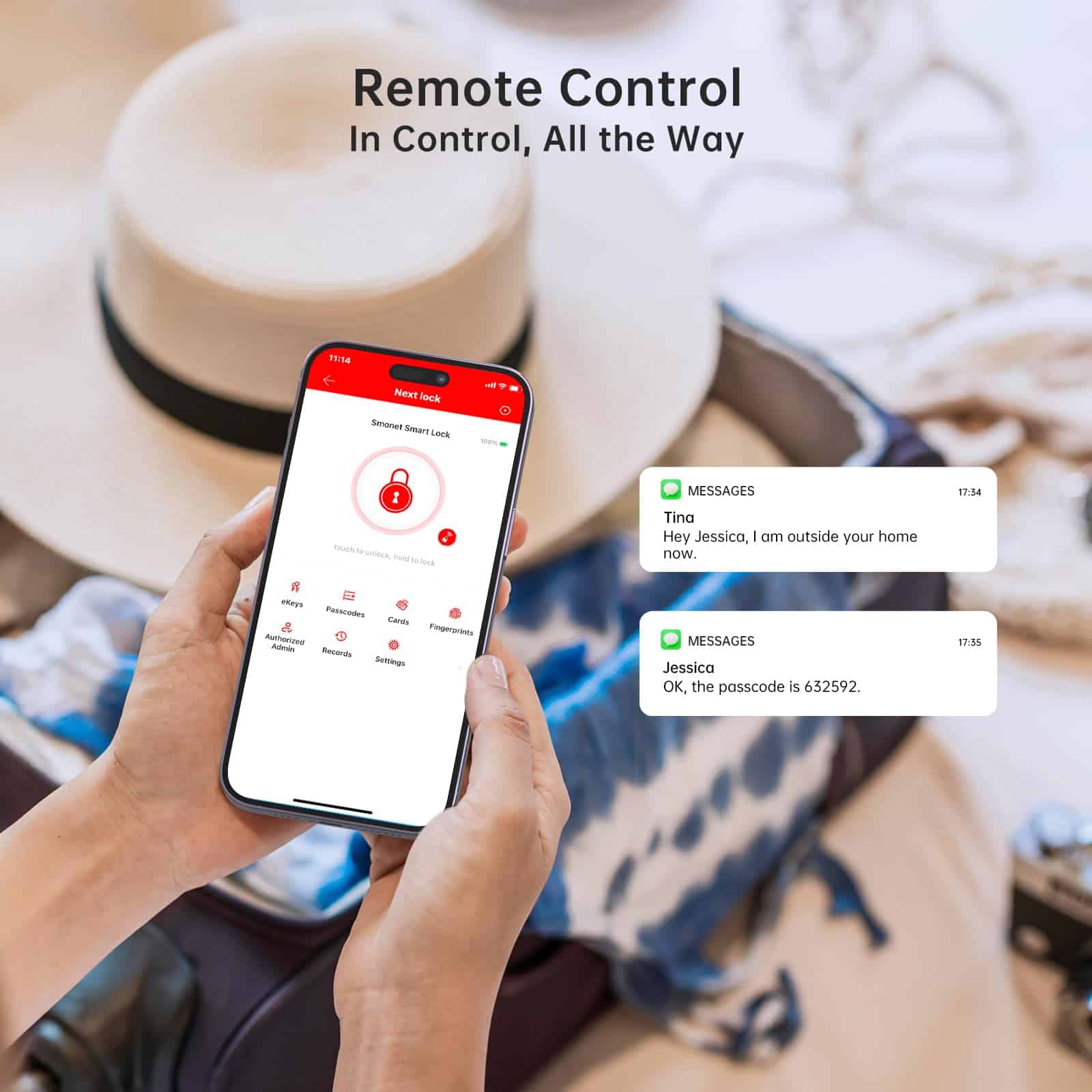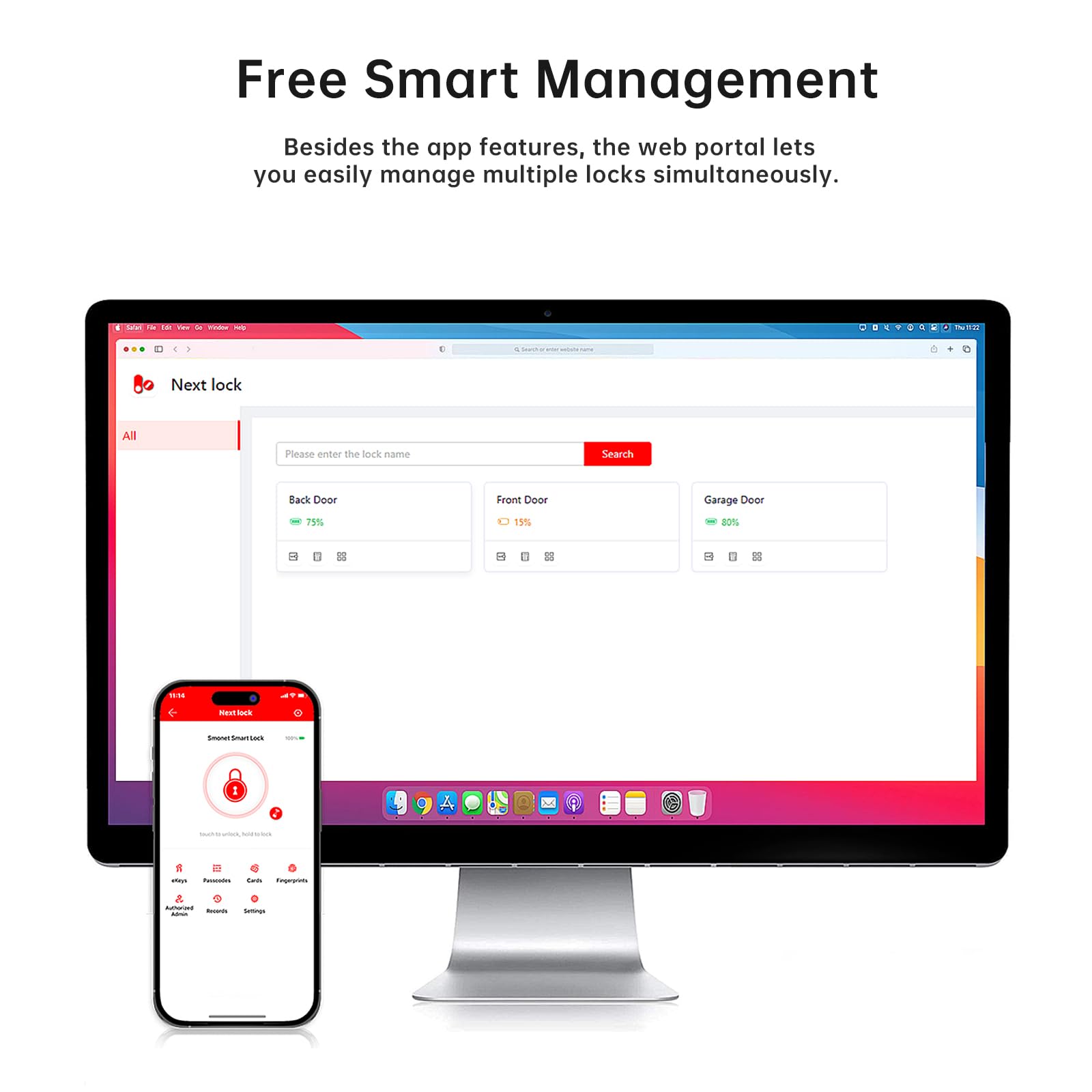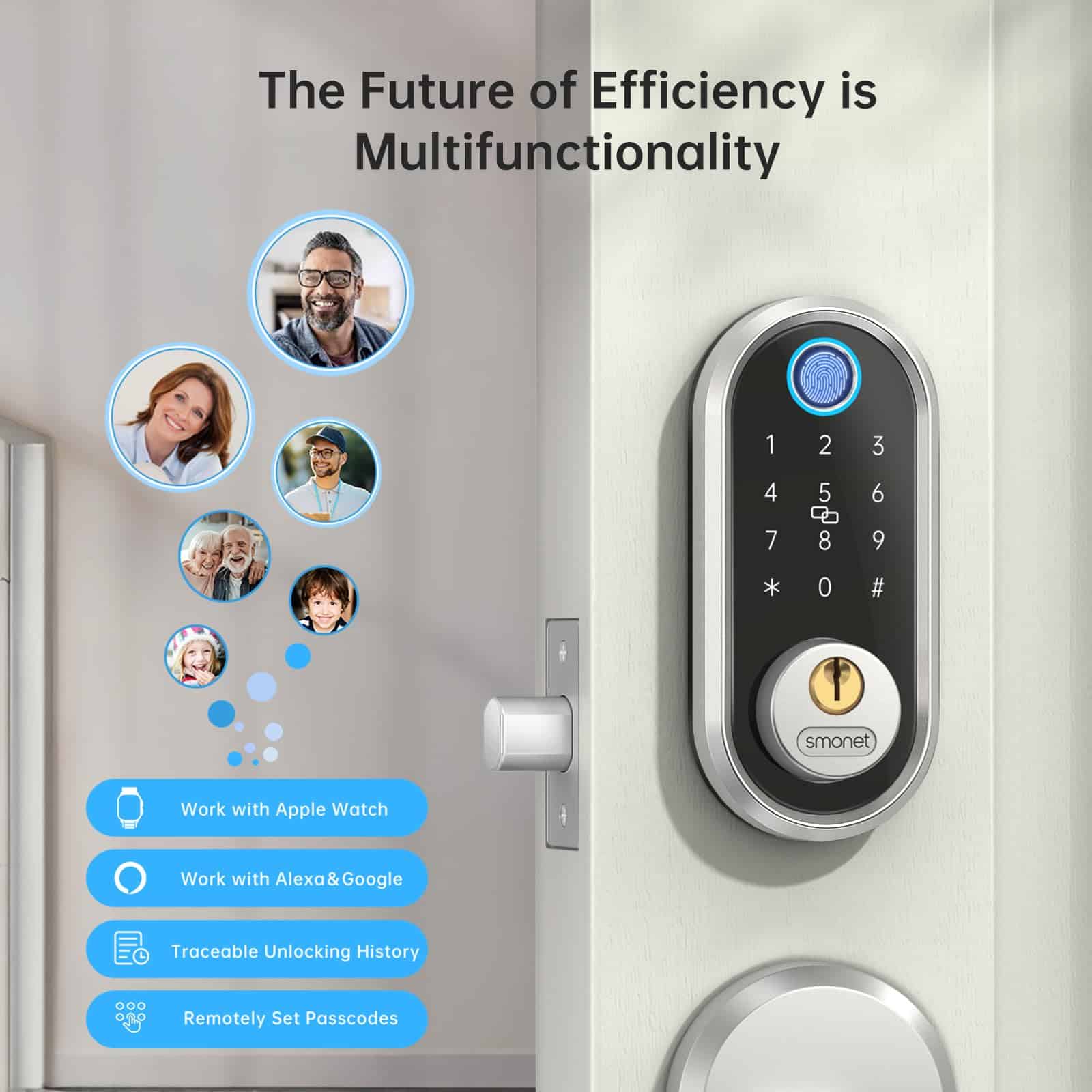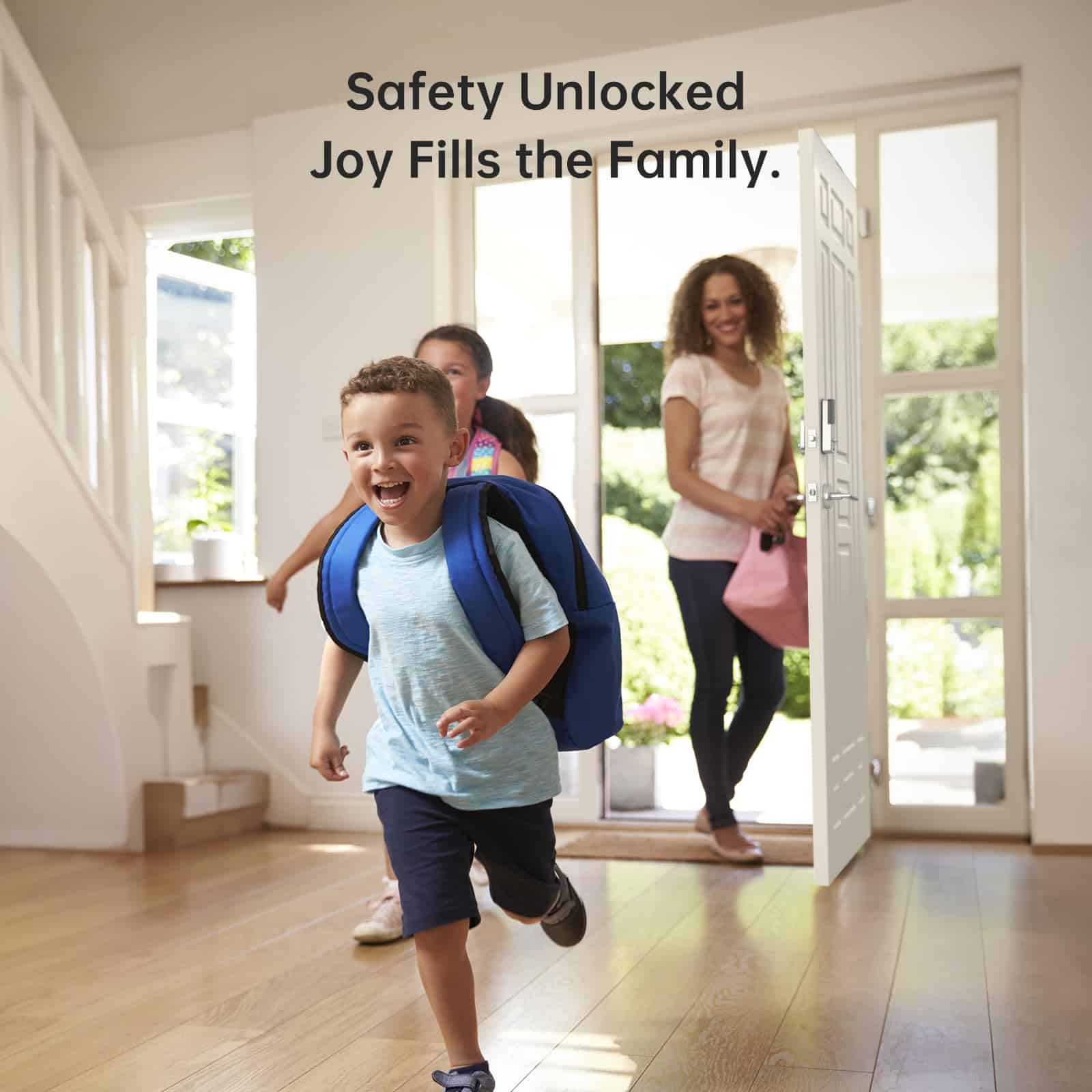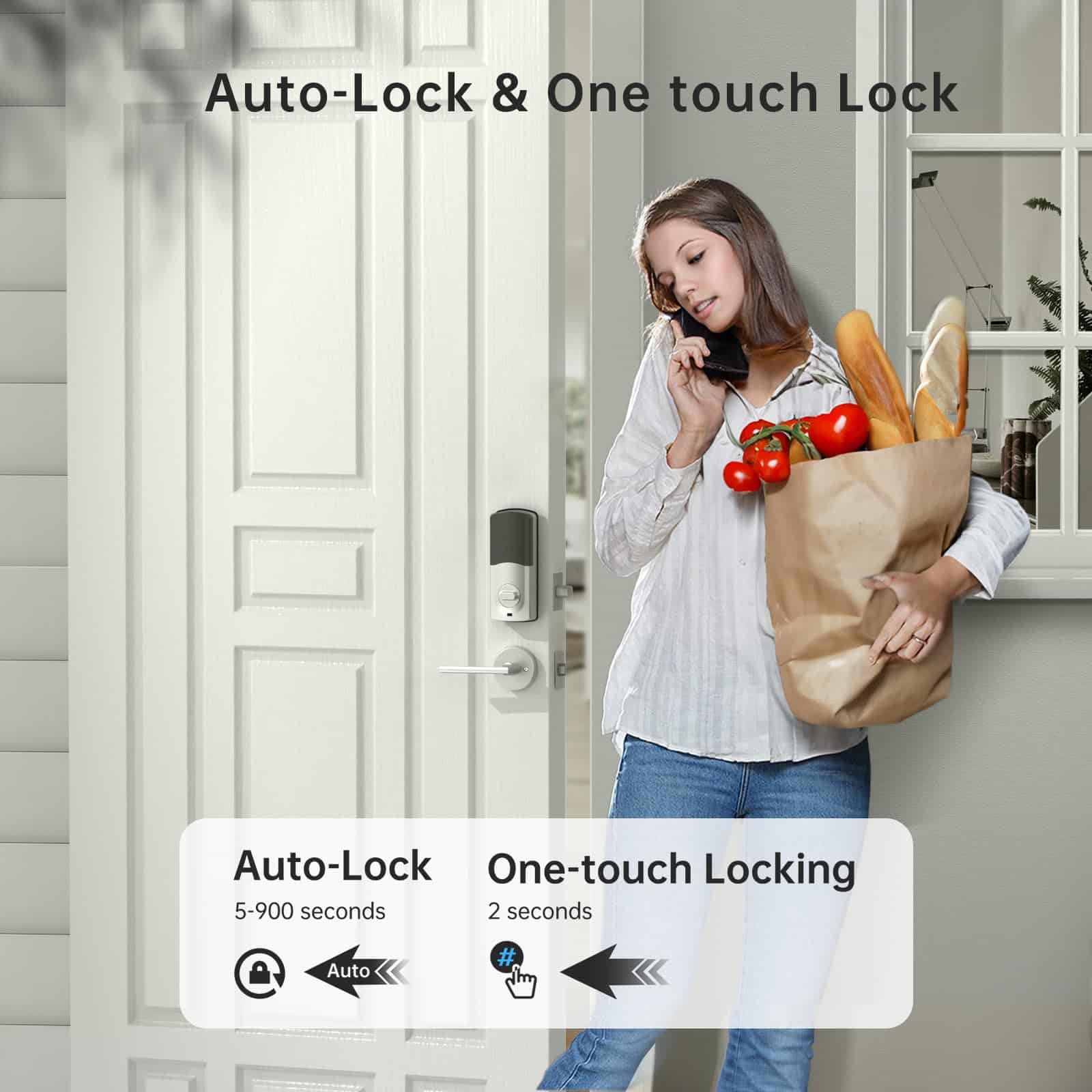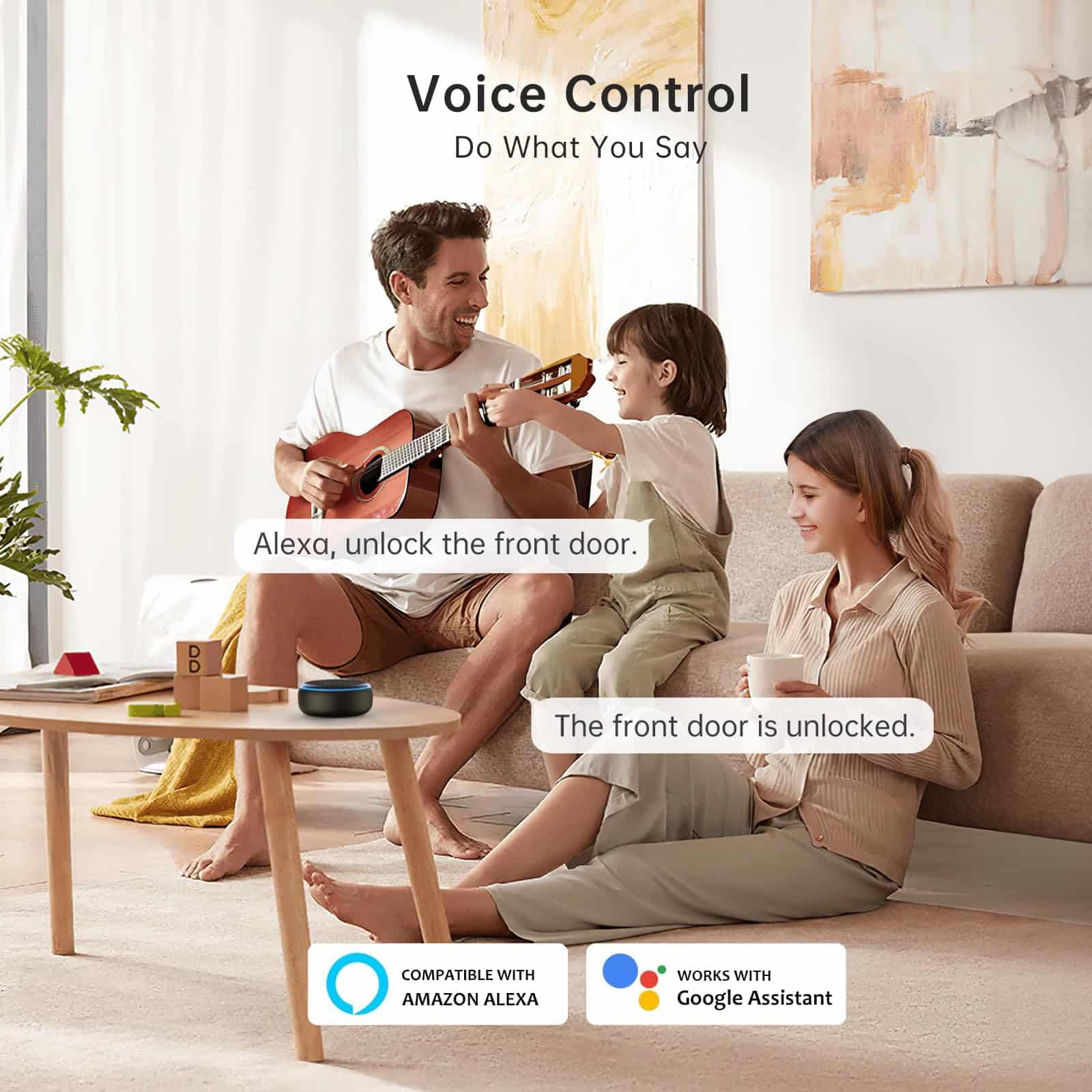 Smonet Fingerprint Lock Smart Front Door Locks Set with Handle Keyless Entry Door Lock Electronic Touchscreen Bluetooth Deadbolt
Fingerprint Unlock | Fob Unlock | Key Unlock | Passcode Unlock | Smartphone Unlock
[Smart Door Lock] Say goodbye to fumbling for your keys, the SMONET Smart Lock is the solution you need! With the ability to recognize your fingerprint in just half a second and unlock your door in just one, it's the fastest option for keyless entry. Plus, you can even connect it to Alexa or Google Assistant for added convenience (but note that a separate wifi gateway is required to connect it to the Internet).
[Multiple Ways to Unlock] Upgrade your home security with the smart door lock! Not only does it bring you peace of mind, but it also transforms your home into a smart space. With five unlocking options – including through the app, keypad, fingerprint, IC fob, and mechanical keys – you'll never have to worry about forgetting your keys again. And with the ability to pair with the wifi gateway, you can control your lock from anywhere and monitor who enters your home, all from the palm of your hand.
[Keyless Entry Door Lock With Handle] Take control of your lock with the Sign in app for smart door locks for front door. With real-time updates, you can see every time your lock is used and any incorrect passcode attempts. Plus, the Code Door Lock offers you the ability to generate custom, permanent, one-time, or timed passcodes for guests, friends, housekeepers, or employees, giving you full control over who has access to your home.
[High Security and Long-battery Life] Keep your home or rental property secure with the Smart Locks for Front Door. With its sleek, alloy body and easy-to-use touchscreen display, this digital door lock with keypad set not only looks great but is also functional. With long battery life – up to 10,000 openings with just 4 AA batteries – you won't have to worry about changing the batteries often. And for added security. Ideal for homes, hotels, Airbnb, and more.
[Easy to Install] The electronic door lock is easy to install and program with just a screwdriver, and is compatible with all American standard left and right handed doors. It can be done in a few minutes with no professional help required.
Installation Guide and User Manual
Recognizes your fingerprint in less than 0.3s, cutting out the time waiting at the door.
With its SMONET G2 gateway(Sold Separately), you can control your lock from anywhere via the app.
Door lock will remind you when the battery is low and you can check the battery in the app.
* Replace lock cylinder of smart locks for free in a year. Submit to Smonet for total access solution to manage more properties.
Also can be replace lock cylinder if your keys are drops in a year. Learn more.
Enjoy peace of mind with every door activity visible in the event history.
Entering random numbers before or after the correct password will also unlock the door.
Once enabled, only the admin password or physical key can unlock, providing additional security.

Remote Password

Keys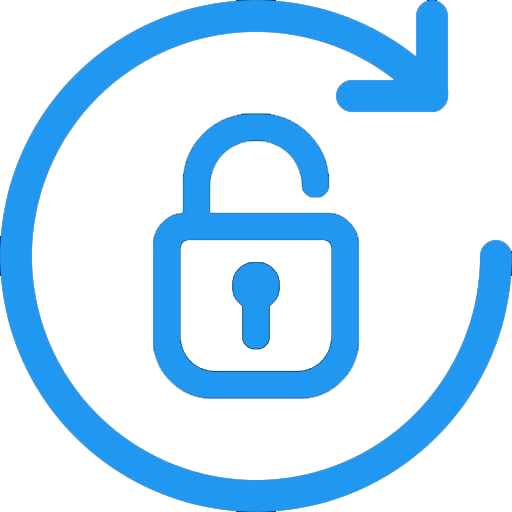 Auto-Lock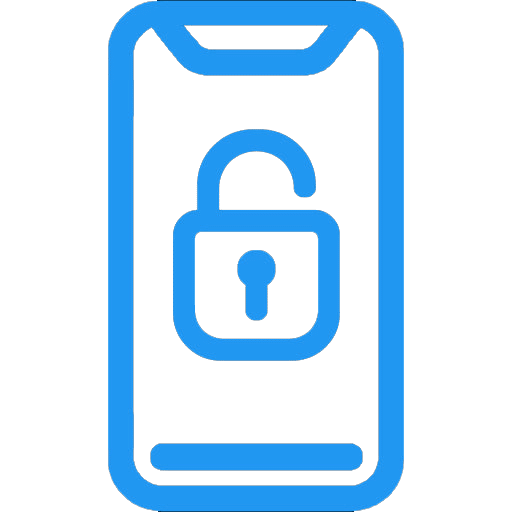 Remote Unlock

Authorized Admin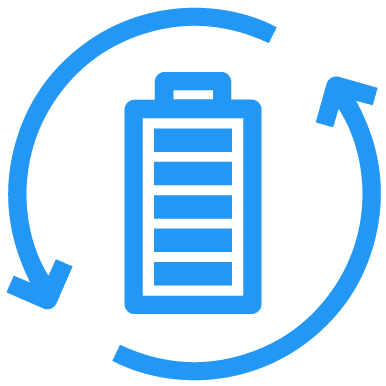 Say goodbye to fumbling for your keys, the SMONET Smart Lock is the solution you need!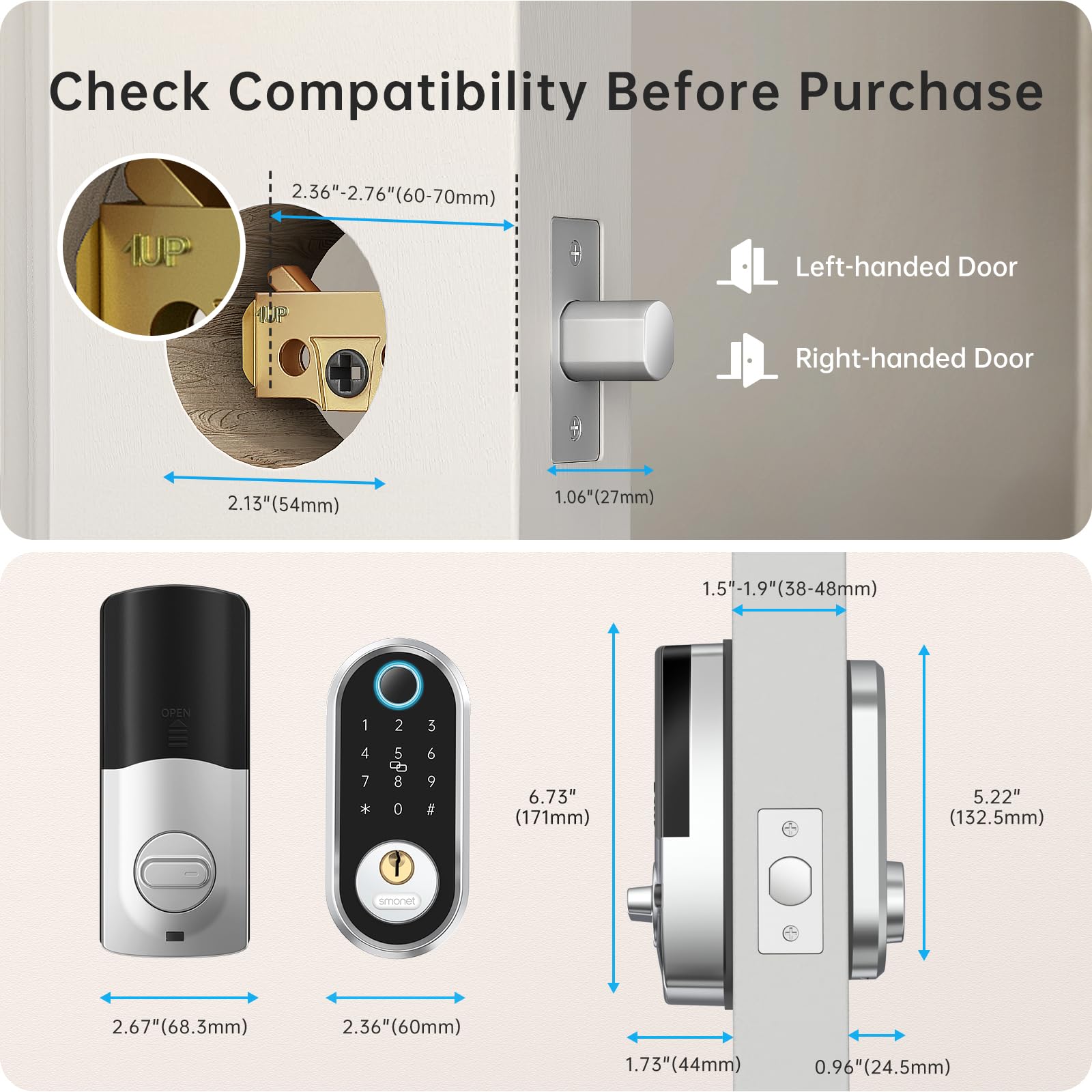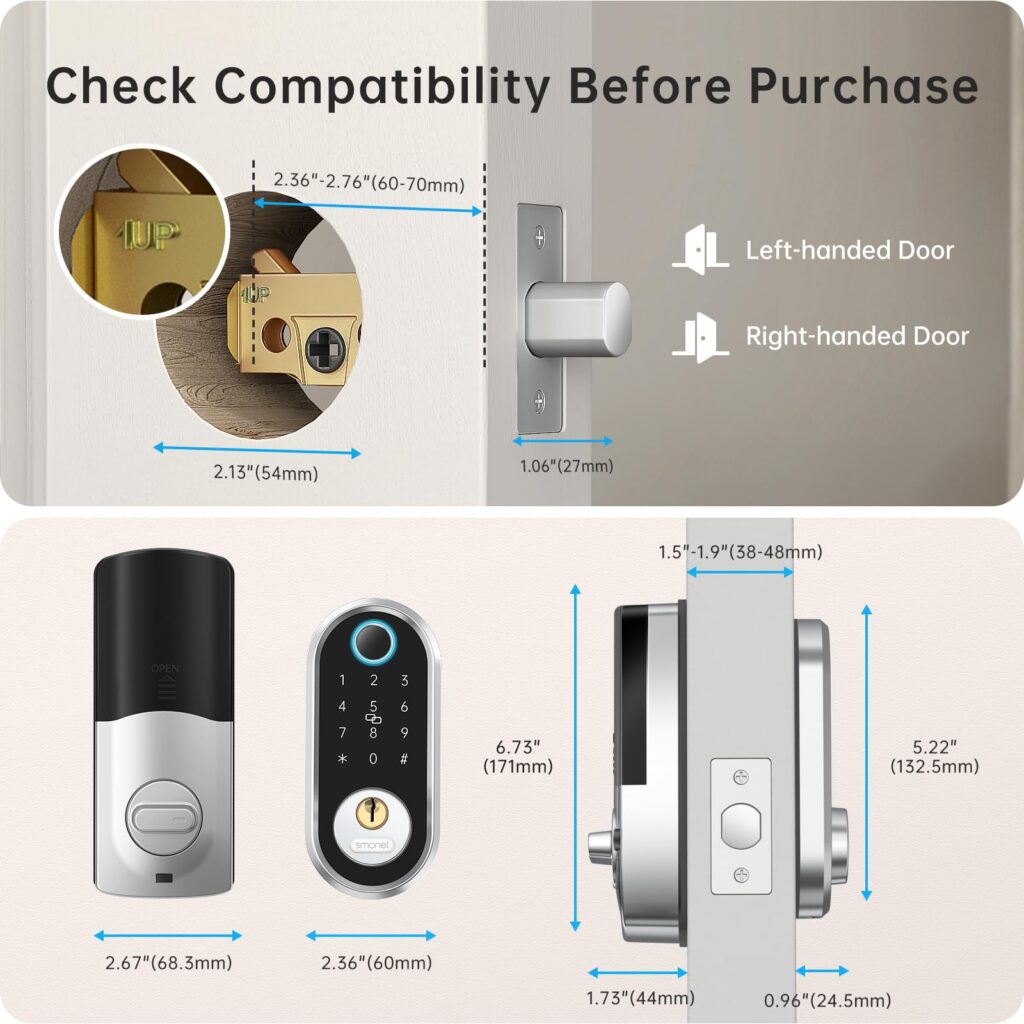 Package Includes:
1* Exterior Assembly
1*Interior Lock
1* Exterior handleset
1* Interior Lever door handle (reversible)
1* Radius square corner strike (with latch box)
1* Diagram template for installation
1* A screwdriver
427 mm x 190 mm x 100 mm
16.8 x 7.48 x 3.94 inches
Frequently Asked Questions